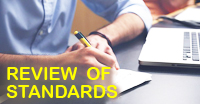 Review Of Standards
In 2017 ABFSE initiated the process for review of the standards used to accredit programs in funeral service/mortuary science.
Comments from individual practitioners, educators, students, funeral service professional groups and members of the public were utilized to create the proposed standards.
Please take this opportunity to participate in the final review of the proposed standards.
Click here to participate.
Click here for a brief summary of the review process.